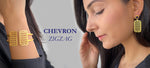 Chevron Chic Zigzag
"Chevron" refers to a V-shaped pattern or motif that consists of repeated inverted "V" shapes. The chevron pattern has been used in various contexts since time immemorial, including architecture, fashion, and design and its origins can be traced back to ancient civilizations.
Amaltaas works with this classic yet evergreen design to create the awesome "Chevron Chic" Collection. A distinct and stylish zigzag pattern, taking inspiration from the chevron motif to create a fashionable and dynamic aesthetic - resonating with modern trends! With a combination of semi-precious Amethyst and Freshwater Pearls - this Collection is a must-have! 

From stunning necklaces to trendy bracelets and earrings, each piece in the Chervon Chic Collection symbolises energy, movement, and individuality. Indulge in the allure of our Chervon Chic Collection and let your personal style shine!